WORKS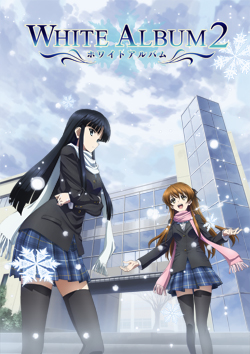 WHITE ALBUM 2
STORY
Autumn evening, a month before the school festival

Haruki Kitahara is the last member of the `fragmented band music club`. He is playing his guitar at the window for the stage show of the school festival after school.

He is an academic high-flyer and kept himself on a straight and narrow path of study, for two and half years. But in the last six months before his graduation, a little adventure begins...

The sound of his guitar was joined by fluent piano and a singing voice like a bell…

The members of the `band music club` gradually increased from one, then two and three. A magical six months had begun.
(C) PROJECT W.A.2
INFORMATION
【Broadcast information】
TOKYO MX:
From 5th October
Every Saturday from 25: 30
Mainichi Broadcasting system (MBS):
From 7th October
Every Monday from 26: 25
Aichi Television Broadcasting (TVA):
From 7th October
Every Monday from 26: 35
BS11:
From 9th October
Every Wednesday from 24: 30
AT-X:
From 10th October
Every Thursday from 22: 00
Nico Live:
From 8th October
Every Tuesday from 23: 00
Nico Nico Channel WHITE ALBUM2
STAFF
Original story:White Album 2
Shiawase no Mukōgawa (AQUAPLUS)
Director:Masaomi Ando
Series organization/Script:
Fumiaki Maruto
Character original plan:
Takeshi Nakamura
Animation character design,
chief animation supervisor:
Satoru Fujimoto
Sub-character design,
chief animation supervisor:
Rondo Mizukami
Chief director:Seiya Numata
Costume design:Sachiko Ohashi
3D set design:Kenichi Morioka
Art director:Kenichi Tajiri
Color design:Aiko Shinohara
DoP:Yoichiro Sato
Visual effects:Kento Sasaki
Director of Special effects:
Kumiko Taniguchi
3D director:
Hisashi Akimoto(T2 studio)
Sound director:Jin Aketagawa
Editor:Go Sadamatsu
Music director:Naoya Shimokawa
Music:Shuntaro Kobayashi,
AQUAPLUS
Animation work:Satelight