WORKS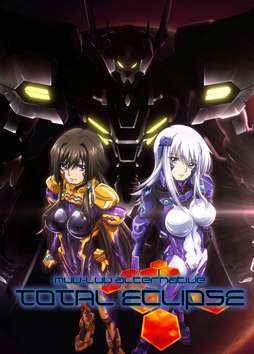 Total Eclipse
STORY
In 1973, a strange new alien species, "BETA", attacked the earth, starting the war that would drive all of humankind into despair. As the highly advanced BETA forces attack, the global-community`s main strategic battlefield weapon becomes a humanoid "tactical fighter". The far superior BETA forces invade half of the Eurasian continent and forcing humankind into retreat.. 30 years later, the battle still continues. Humankind is still caught in the quagmire without any hope.

In 2001, Japanese empire was on the battle line of the Eastern front. The development of next main tactical fighter did not go well. In response, a joint Japan/U.S. tactical fighter retrofit project was suggested.. Name:- "Project Prominence". Yui Takamura belonged to Imperial Royal Guard. She received an offer to be a project manager and moved to Alaska. At the same time, a young US army guard, Yuuya Bridge, also travelled to Alaska.

Their meeting will dramatically change destiny. They do not know that at this time.

This is a robot action story of passionate humans who try to save an earth in danger of extinction, using "tactical fighter" against the forces of "BETA".
(c) Kouki Yoshimune / ixtl / TV Tokyo / Alternative Dai-ichi Keikaku
INFORMATION
【On Air】
TV TOKYO:
Sunday 1st July 25: 35-26: 05
Television Osaka:
Monday 2nd July 25: 10-25: 40
Aichi Television Broadcasting:
Friday 6th July 26: 30-27: 00
Television Setouchi:
Friday 6th July 25: 53-26: 23
Television Hokkaido Broadcasting:
Tuesday 3rd July 26: 30-27: 00
TVQ Kyushu Broadcasting:
Monday 2nd July 26: 23-26: 53
AT-X: from Thursday 5th July

・Every Thursday
from 11: 00 / from 23: 00
・Every Monday
from 17: 00/ from 29: 00

【Web delivery】
Nico Nico Live:
Every Saturday 24: 00-24: 30
Nico Nico Channel update on
Every Saturday 24: 30
STAFF
Original story:Kouki Yoshimune (ixtl/âge)
Executive producer:Kouki Yoshimune (ixtl/âge)
Director:Masaomi Ando
Character design:Yumiko Hara
Chief animation supervisor:
Ron Mizukami,Kenji Shinohara
Mechanical design:Tomohiro Kawahara,
Hiroyuki Taiga
Prop design:Kenichi Morioka
Background artist:Hiroki Matsumoto
Art director:Takashi Ichikura
Color design:Aiko Shinohara
CGI chief design:Kosuke Morino
DoP:Tsunetaka ema
2D monitor:Chie Kato
Editor:Go Sadamatsu
Sound director:Jin Aketagawa
Sound effects:Yasumasa Ogawa
Sound work:Magic capsule
Music:Seikou Nagaoka
Music produce:Nobuto Ikehata
Animation work:ixtl × Satelight