WORKS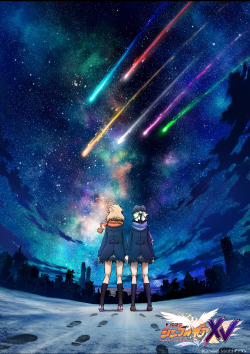 SENKIZESSHOU SYMPHOGEAR XV
STORY
Noriyasu Agematsu, the representative of the sound production group "Elements Garden", and Akifumi Kaneko, who has planned and developed game titles across many genres (including RPGs), are working on the original TV animation "Songs and Stories". Their latest work is a compilation of the "Senki Zessho Symphogear" series.

The shocking video experience, in which the characters act while singing and put their emotions and thoughts in the lyrics, began in January 2012.

Since then, the season has been repeated for seven years, and the fifth title, which has been greeted with greater praise than the previous work, is "Senki Zessho Symphogear XV (XIV)".

At the climax, this work "XV", which is directly connected to the previous season "Senki Zessho Symphogear AXZ (Axis)", which made us feel the arrival of a more severe fate, will welcome new characters and new songs. I will draw the drama and battle of the largest scale of the Symphogear series.

Please look forward to the powerful story that unfolds from the first episode.
©Project SYMPHOGEAR XV