WORKS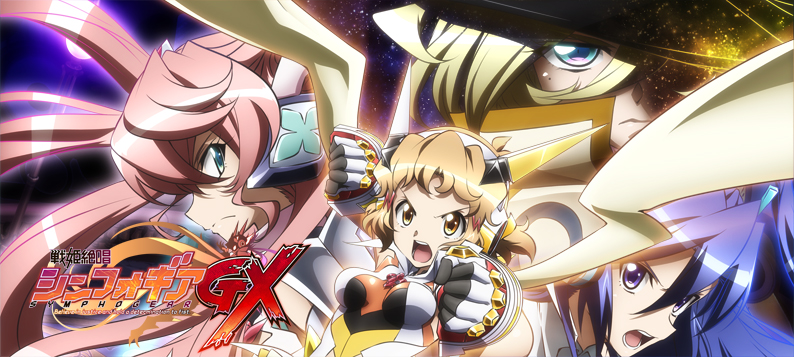 SENKIZESSHOU SYMPHOGEAR GX
STORY
This girl fighter who used to be called "the first blended case"
miraculously fuses with the Symphogear of Gungnir just before the world ends.

Humankind was to undergo the selective eugenics of the `earthly primate continuation program`.―――
These girl fighters put great spirit into singing to stop the sequence of destabilization known as the "Frontier incident". This begins a new story….

A large object is falling to Earth, spiraling out of control at supersonic speeds.
It was the UN space shuttle, returning to the earth from Lagrange Point after the completion of its mission in deep space.

Malfunctioning due to system error, it seems impossible to avoid either exploding in the air or crashing to the ground. All national leaders just gasp in horror at this emergency situation.

Even the Symphogear girl fighters, who have saved the world from unprecedented crisis twice, must stand by in this emergency situation because they are regarded to be a part of the Japanese military.

About 100 days have passed since then.

Since the frontier incident ended, the registered anomalous disaster called "Noise" has not been seen. Everybody, who knows the incident, started believing they had heard the last of the "Noise" and the trouble it caused.

Sakuya Fujita and Aoi Tomosato were watching the monitor at headquarters. They found a slightly different but quite similar waveform to "Noise".

The location is near the Wharf of Ōsanbashi Pier at Yokohama port.

A girl in black was running like the wind to escape with a small box in her arms. It was the labelled No. 11 "Elfnein".

There is a song that can destroy the world.

Nobody had noticed that the threat was coming closer at this stage. Red sparks were floating up to the summer night sky.
(C) PSGX
INFORMATION
【Broadcast information】
Mainichi Broadcasting System (MBS):
Every Friday from 27: 10
TOKYO MX (MX):
Every Saturday from 25: 00
Aichi Television Broadcasting (TVA) :
Every Tuesday from 26: 05
BS11:
Every Friday from 23: 00
STAFF
Original story:Noriyasu Agematsu,
Akifumi Kaneko
Director:Katsumi Ono
Series organization,Script:
Akifumi Kaneko
Original characters: Dan Yoshida
Character design,
chief animation supervisor:
Satoru Fujimoto
Chief animation supervisor:
Yosuke Kabashima
Action director: Fumiaki Kouta
Main animator: Kouki Shikizi
Prop design: Miki Yoshikawa
Future Visual: Ngo Long
Background artist: Thomas Romain
Art director: Takashi Ichikura
Color design: Aiko Shinohara
CG chief producer:
Yuta Hatakeyama
PoD: Go Shimura
2D works: Jiro Kageyama
Special effects:Ayaka Iida
Editor:Go Sadamatsu
Sound director:Satishi Motoyama
Sound producer: Noriyasu Agematsu
Music: Elements Garden
Animation work: Satelight
Production: Project Symphogear GX