WORKS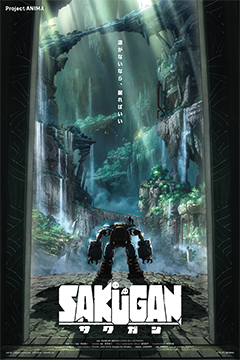 SAKUGAN
STORY
One day in the distant future. Humans live shoulder to shoulder in "colonies" separated by rock.
Outside the colonies, a dangerous undeveloped area called "the Labyrinth" is expanding. Those who risk their lives to develop "the Labyrinth", who mark out the undeveloped areas, are known as "Markers".
A young girl, Memempu, who wants to be a Marker one day,and a man, Gagumber, who used to be one.
This mismatched father and daughter now take on the Labyrinth!
INFORMATION
Broadcast in the fall of 2021!
* The days and times might to be change because of the broadcasting station.
STAFF
Director /Series Composition: Wada Junichi
Scriptwriter: Nagai Shingo, Mochizuki Mariko,
Nemoto Toshizo
Character Drafting: Iwahara Yuji
Animated Character Design: Mochizuki Shunpei
Concept Design: Koda Kazuma
Monster Concept Design: Kawamori Shoji
Kaiju Mechanics Design: Taiga Hiroyuki
Mecha Design: Stanislas Brunet
(Studio No Border)
Prop Design: Ishimoto Takahiro,
Morioka Kenichi
Art Setting: Sakamoto Ryu (BIC·STUDIO)
Art Director: Oonishi Minoru (BIC·STUDIO)
Color Design: Hasegawa Miho (Hiyori)
Cinematographer: Shimura Tsuyoshi (T2studio)
Assistant Director: Mishio Tenpei
Editing: Matsumoto Shuji
3DCG Director: Goto Hiroyuki
2D Works: Nakamura Noriko
Sound Director: Kimura Eriko
Music: Kato Tatsuya
Sound Producer: Tohokushinsha
Music Producer: Lantis
Animation Producer: SATELIGHT
Drafting: Inui Nekotarou
"Drilling Labyrinth Marker"(EVERYSTAR)
Original Work: Colony Congress
Produce: SAKUGAN Project