WORKS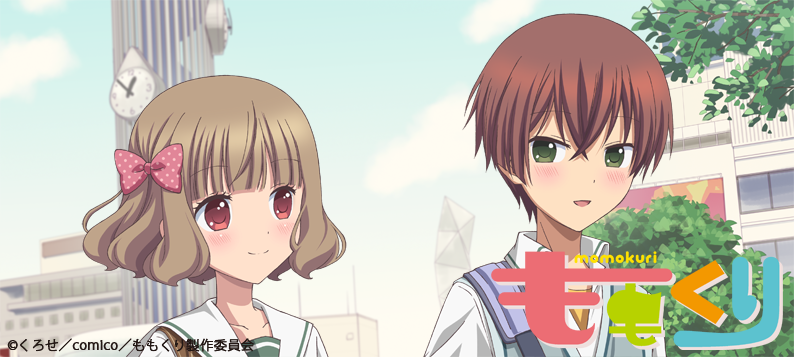 Momokuri
STORY
Yuki Kurihara, is attending year 8 at high school when she falls in love with Shinya Momotsuki- one year younger than her, at first sight.
"Momo-kun mobile photo" is a photo collection of Shinya that Yuki takes photographs of Shinya from a distance. When her collection, called "Momo-kun mobile photo". When she takes the 100th photo of him, she decides to express her love to him.
After they start dating, her secret obsessions still remain.. She continues to secretly photograph him. She also collects any item he touches.. That is a bit weird… isn't it?
This is a sweet romance comedy about this awkward Japanese couple- their passion and disappointment.
(c) Kurose / comico / Momokuri Production Committee
INFORMATION
STAFF
Original story: Kurose (comico)
Director/ Series organization:
Yoshimasa Hiraike
Character design,
chief animation supervisor:
Miwa Oshima
Scenario:Yoshimasa Hiraike,
Mariko Mochizuki, Satoko Shinozuka
Background artist, Art director:
Kenishi Tajiri (MUKUO STUDIO)
Color design: Eri Suzuki
Editor: Kentaro Tsubone (REAL-T)
DoP: Tomoyuki Shiokawa (T2 studio)
Sound director: Satoshi Motoyama
Music production: Lantis
Music: TO-MAS SOUNDSIGHT
FLUORESCENT FOREST
Theme: "Yawarakutte Yasashii Jikan"
Yuki Kurihara(Ai Kakuma)
Animation work: Satelight