WORKS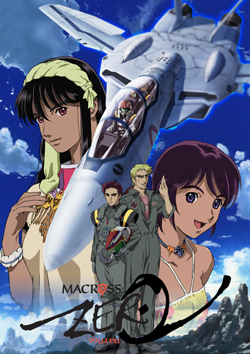 Macross Zero
STORY
Centering on over technology that was brought by the alien combat vessel, which fell in 1999, it has already been eight years since the war broke out between Joint Force and Anti Joint Force. A lot of experienced soldiers have died and now even teenagers have ended up fighting.

Under these circumstances, 18-year-old Joint Force pilot KudoShin was shot down in the middle of fighting when he was in his favorite F-14 and crash-landed in the southern sea on an isolated island that has birdman legend.

On the island "Mayan" he met sisters, Sara and Mao. Sara a beautiful girl, who strongly wishes for the island's peace, her little sister Mao, and our hero Shin are going to get involved in the fight for unknown over technology.

Can Joint Force soldiers Shin and Fokker protect the Mayan people from the enemy force?

Also, can Sara preserve the island's legends and traditions?
(C)2002 Big West/ Macross Zero Production Committee
INFORMATION
Original Video Animation 5 Episodes
STAFF
Original Story:Shoji Kawamori
Director:Shoji Kawamori
Script:Hiroshi Ohnogi
Character Design:Takuya Saito
Special Effect Director:Ichiro Itano
Mechanic Design:Junya Ishigaki
Mechanical Art:Hidetaka Tenjin