WORKS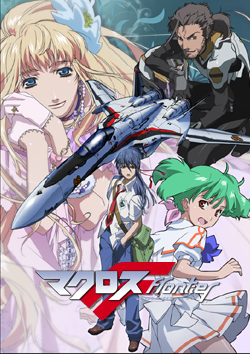 Macross Frontier
STORY
A super galactic love story of love, friendship, and planetary destiny crossing over!

In the year of 2059, an idol singer, Sheryl Nome from the Macross Galaxy, comes to the super long distance emigration fleet, "Macross Frontier" for a concert. Sheryl is a top idol that always ranks in the top of the Galaxy hit chart. Ranka Lee is a high school girl who adores Sheryl and works as a part-time worker at a Chinese restaurant. She has only one relative, her older brother, Ozuma, with a great age difference, and who is an elite pilot. Ozuma cares about his sister's feelings so much that he hides the fact that he is a dangerous fighter pilot.

On the way to Sheryl's concert, Ranka meets a high school boy, Alto Saotome who is training to be a pilot.

In a meantime, the Frontier encounters undefined enemy. The enemy is not people from the earth or alien, but they are totally unidentified life in the universe!

The New Joint Force gets damaged one after another. Unidentified creatures have extremely strong offensive capabilities that threaten even the Variable Fighter unit of the New Joint Force. Space creatures invade civilians' residential areas. In order to sort out the situation, SMS's VF-25 unit led by Ozuma goes into action. How many space creatures are there? How strong are their capabilities? What's their goal?!
(C)2007 Big West / Macross F Production Committee / MBS
INFORMATION
Aired in Japan from April 2008
25 episodes in total
STAFF
Original Story:Shoji Kawamori,
Studio Nue
Executive Director:Shoji Kawamori
Director:Yasuhito Kikuchi
Series Concept:Hiroyuki Yoshino
Character Design:Risa Ebata,
Yuichi Takahashi
Mechanical Design:Junya Ishigaki,
Takeshi Takakura
Valkyrie Design:Shoji Kawamori
Mechanical Art:Hidetaka Tenjin
Conceptual Design:Kazutaka Miyatake
Music:Yoko Kanno
Sound Director:Masafumi Mima
Sound Effects:Shizuo Kurahashi
(Sound Box)
CGI Director:Masato Takahashi,
Takeshi Harada,
Eiji Inomoto
Motion Graphics:Itsuro Sasakura, HIBIKI
Art Director:Syunichiro Yoshihara
Art Design:Takahiro Hirasawa
Color Styling:Kumiko Nakayama
Set Decorator:Brunet Stanislas