WORKS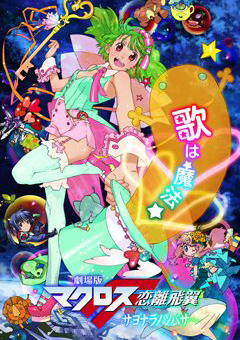 Macross Frontier the Movie -Sayonara no Tsubasa- (Wings of Good-bye)
STORY
In the Year 2059, "Macross Frontier"; the Space Immigrant feet that travels in the galaxy looking for a new land was attacked by "Vajra", the unknown biomechanical alien mecha.

However with the deadful battle of S.M.S, then with the power of two divas whose name is Sheryl and Ranka, the fighting ends.

"Ranka Lee" has been climbing up to the stardom, and "Sheryl Nome" who has a strong aspiration even with the expectation of her own death. "Alto Saotome" is between two girls, and has only a step to go to become an established Valkyrie pilot.

But unfortunately, the peaceful daily lives that were thought to be last forever couldn't last too long. After several months later, shadows of conspiracy start to move around.

When the secret of the diva, the desire of people who work behind the scenes to gain the power of Vajra cover that fleet, wings of Alto who connects the two singers will fly away together with their singing voices...!
(C) 2011 Big West / Macross Frontier Production Committee
INFORMATION
Premiered from Febuary 26, 2011
STAFF
Original Story:Shoji Kawamori,
Studio Nue
Director:Shoji Kawamori
Sub-director:Hidekazu Sato
Script:Hiroyuki Yoshino,
Shoji Kawamori
Character Design:Risa Ebata,
Yuichi Takahashi
Mechanical Design:Junya Ishigaki,
Takeshi Takakura
Valkyrie Design:Shoji Kawamori
Mechanical Art:Hidetaka Tenjin
CG Chief Director:Hiroshi Yagishita
Color Styling:Kumiko Nakayama
Art Director:Syun-ichiro Yoshihara
Music:Yoko Kanno