WORKS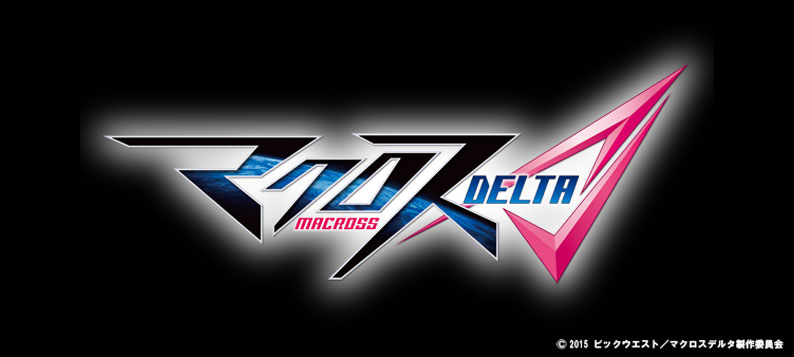 Macross DELTA
STORY
In 2067, the Galactic frontier is infected by a strange rampant disease called "Var Syndrome"-, which causes humans to lose self-control and go berserk. The tactical music unit "Valkyrie" has been formed to suppress the symptoms of "Var Syndrome", by performing live music and singing on many planets.
At the same time, a variable aircraft unit called the "Aerial Knights" from "Windermere Kingdome", has started tactical operations… This is a story of passionate teamwork and a love story spanning planets that begins in a mystery of protocultural heritage.
(c) 2015 Big West / Macross DELTA Production Committee
INFORMATION
【Broadcast information】
TOKYO MX:
Every Sunday from 22: 30
Mainichi Broadcasting System:
Every Tuesday from 27: 00
Aichi Television Broadcasting:
Every Friday from 26: 05
Television Hokkaido Broadcasting:
Every Wednesday from 26: 05
TVQ Kyushu Broadcasting:
Every Monday from 26: 30
BS11:
Every Tuesday from 24: 00
D Amine store:
Every Wednesday from 12: 00

※The broadcast schedule may change at the convenience of the broadcasting network.
STAFF
Original story:Shoji Kawamori,
Studio Nue
General manager:Shoji Kawamori
Director: Kenji Yasuda
Series organization: Tosizo Nemoto
Original characters by:
Chisato Mita (CAPCOM)
Character design,
chief animation supervisor:
Majiro, Yu Shindo
Main animator: Ryu Nakayama
Worldview design: Thomas Romain
Valkyrie design: Shoji Kawamori
Mechanical design: Brunet Stanislas
Background artist: Vincent Nghiem
Design works: Sachiko Ohashi
Macros visual artist: Hidetaka Tenjin
Color design: Kanako Hayashi
Art director:
Shigemi Ikeda (Atelier Musa),
Yukiko Maruyama (Atelier Musa)
DoP: Atsushi Iwasaki (T2studio)
CG director: Kosuke Morino
CG supervisor:
Hiroyuki Kato (unknownCASE)
CG animation director:
Atsushi Sakiyama (unknownCASE)
Main Valkyrie modeling:
Yukio Ikeda, Keiji sakamoto
Monitor graphics: HIBIKI,
Yota Suzuki (flapper3),
Chie Kato (T2 studio)
Special effects: Ayaka Iida
Editor: Kentaro Tsubone (REAL-T)
Music: Saeko Suzuki,
TOMISIRO,Mina Kubota
Music production: Flying Dog
Sound director: Masafumi Mima
Sound work: Techno Sound
Animation work: Satelight