WORKS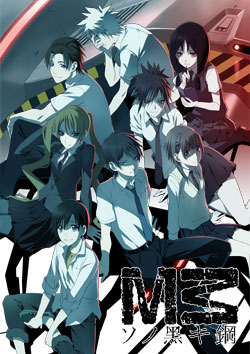 M3 the dark metal
STORY
The story focuses on a group of 4 boys and 4 girls (later on 5) who met, when they were younger, in a realm full of darkness.
A mysterious substance called Necrometal devours or infects anything that comes within a certain distant of a place called the Lightless Realm. It starts at an ordinary school in a city of close proximity to the Lightless Realm and focus's on Akashi for the most part. Akashi is no. 1 in the school when using the training bots to defeat schoolmates and is first seen fighting his best friend and defeating him.
A man approaches him with an invitation to join a special force that is tasked with defeating the Corpses and uncovering the secrets of the Lightless Realm. Fast forward some time and a Corpse appears which has the power to "kill" people who hear its song.
It sings a lovely melody and like a countdown, over the next few months it is discovered that Emiru has become infected by the Necrometal that has plagued the Lightless Realm for so long.
It is now up to Akashi to use the device known as the Reaper or MA-Vess in order to defeat the Corpse and save everyone.
(C) Junichi Sato / Mari Okada / Satelight / M3Project
INFORMATION
Blu-ray & DVD box 1
on sale November 5, 2014.
STAFF
Directed:Junichi Sato
Written:Mari Okada
Mecha Design:Shoji Kawamori