WORKS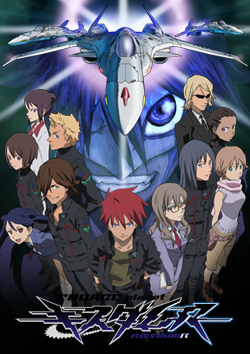 Kissdum R -ENGAGE planet-
STORY
The fight between humans and Hadeans. What is going to happen!?
The near future: humans are enjoying their prosperity although they consistently have various problems, such as politics, religion, resources and the environment.

However, the end of the prosperity is imminent. There are omens: heteromorphic bugs with wings are rampantly growing worldwide. The source of the outbreaks of various creatures moves along the ocean current. People who notice the omens establish the Neo International Defense Force (N.I.D.F) to fight it.

A.D. 2051. Can N.I.D.F defeat these various creatures; these Hadeans who appear all together all over the world!?
(C)2007 BVSN・Project NES
INFORMATION
Aired from April 2007 to
September 2007 26 Episodes.
STAFF
Original Story:SATELIGHT,
World Business Enterprise
General Supervision:Yasuchika Nagaoka
Director:Hidekazu Sato
Assistant Director:Hiroyuki Kanbe
Series Composition:Yasuchika Nagaoka
Character Design:Sushio
Mechanical Design:Shoji Kawamori
Art Director:Lee Seo Gu
Art Design:Romain Thomas
Director of Photography:Takeshi Katsurayama
Color Styling:Kumiko Nakayama,
Yukiko Nagahama
CGI Animation Director:Eiji Inomoto
Sound Director:Jin Aketagawa
Music:II MIXΔDELTA