WORKS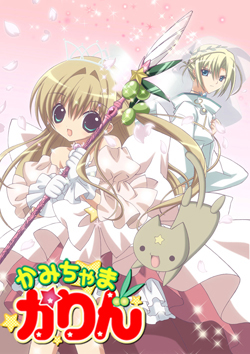 Kamichama Karin
STORY
"What if humans gain the power god has…"

Karin becomes alone when the cat she loved dies. Karin decides to live by herself with great vigor. At that time, she meets Kazune and Himeka Kujyou. Karin likes this handsome but snobby boy Kazune. He flatters her sometimes by being nice, but other times he's cold to her. Is this love!? The girl's mind swoons. However, in spite of her feelings, this encounter greatly changes Karin's fate. Is this coincidence or inevitability??? Centering on the secret of the ring, which controls the power of "god", the fantasy world opens its door now!!
(C)Koge-Donbo / Kodansha Ltd. / Shinka Keikaku / TV Tokyo
INFORMATION
TV Series Broadcasted from
April 6 2007 to September 28 2007
26 Episodes.
STAFF
Based on the manga "Kamichama Karin"
and "Kamichama Karin Chu" by
Koge-Donbo
Director:Takashi Anno
Series Composition/Script:Yuko Kakihara
Character Design:Kenji Shinohara