WORKS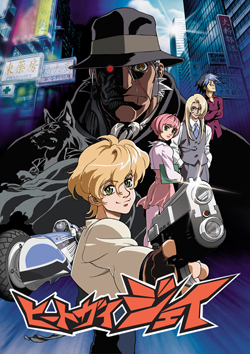 Heat Guy J
STORY
Built on a man-made island, the city of "JUDE" is the stage on which the story unfolds. This is a deep drama that centers on "Daisuke" and his android partner "J" who work for the Special Operations Branch of the City Law and Order Management Bureau, charged with protecting citizens of JUDE from crime.

He is a laid-back and cynical hero, partnered with a strong-willed and enormously powerful android. Based around this relationship,Daisuke comes into contact with various people during the courseof the series and through this grows psychologically. This robotshould only be responding to instructions, however, his words and behavior strike a strong chord in the hearts of our hero and hiscompany.

A lot of characters with strong individuality appear in this story and each person grows through experiencing happiness and sadness through various affairs.
Brotherly love, friendship, romance cAn intense drama following these characters is the biggest attraction of "HEATGUY-J".
(C) Satelight / HEAT GUY - J PROJECT
INFORMATION
Aired from October 2002 to
March 2003. 26 Episodes.
STAFF
Original Story:Satelight/Kazuki Akane
Director:Kazuki Akane
Sub Director:Takashi Yamazaki
Series Composition:Kazuki Akane
Charactor Design:Nobuteru Yuki
Main Mechanical Design:Takayuki Takeya
Mechanical Design:Takeshi Kakakura