WORKS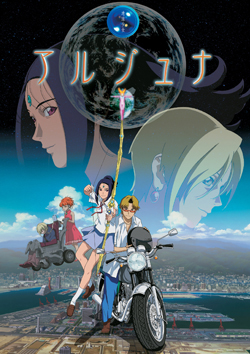 Earth girl "Arjuna"
STORY
In order to save the earth from
environmental destruction, a girl awakes.
Her name is JunaAriyoshi. During a near death experience she glimpses a futuristic view of the earth's destruction. With the help of a mysterious boy named Chris, she develops the power to resonate the earth and her heart and completely control the earth's aura.

Juna, who covers herself in a glaring aura suit, has intense fights with eerie monsters of the Raja tribe as they attempt to destroy humanity.While the earth is on the road of destruction at the end of the century, what is Junagoing to see?

What will happen to the earth?
(C)2001 "Arjuna" production committee
INFORMATION
Aired from January 2001 to
March 2001. 13 Episodes.
STAFF
Original Story:Shoji Kawamori
Director:Shoji Kawamori
Project:Shoji Kawamori
Series Structure:Shoji Kawamori,
Hiroshi Ohnogi
Character Design:
Takahiro Kishida
Assistant Director:
Hidekazu Sato
Art Director:Masaru Ohta,
Masanobu Nomura
Color Design:Miyoko Kasamori
CG Motion Director:Ichiro Itano
Digital Coordinator:Yasuaki Takeuchi
Music:Yoko Kanno
Music Director:Masafumi Mima
Animation Producer:Michiaki Sato
Animation Production:SATELIGHT