WORKS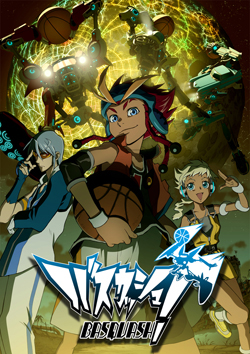 Basquash!
STORY
"Earth Dash" is a planet where you see a Moon up on the sky. A moon city, "Mooneyes" is a place that the residents of Earth Dash dreams of, as it have all the cutting edge technologies. And they are all wishing to visit there some day.

At Earth Dash, large machines called, "Big Foot" is used for various purposes to help people's living.
And now, people from all over the world are crazy about "Big Foot Basketball" (BFB). People play it by riding on their Big Foot in the stadium.

Dan lives playing and running around with his friend, in a city called, Rolling Town in Earth Dash. People are having parties; since they are to have the first official BFB game there.
Dan glazes at such scenes with hatred feeling. Actually Dan's sister, Coco was injured her legs by one accident of Big Foot.

Dan meets one girl.
She persuades him to ride on the Big Foot. Big Foot runs, pops, moves around freely…
Dan smiles without realizing it.
Then, he ends up going to the BFB official game that's about to be held at Rolling Town for the first time, before he still remembers the great feeling of Big Foot.

The game starts. However what he sees there is a passionless and far boring game, compares to the ones you see on TV.

Dan stands up irritating.
And the sensational memory of the Big Foot flashes back to Dan.
The legend of Dan has started..!
(C) Shoji Kawamori / Thomas Romain / Satelight / Basquash! Production Committee / MBS
INFORMATION
Aired from April 2009 to October.
26 Episodes.
STAFF
Original Story:Shoji Kawamori,
Thomas Romain, Satelight
Project Director:Shoji Kawamori
Director:Shin Itagaki,
Eiichi Sato
Character Design:Takahiro Yoshimatsu,
SUEZEN, Kazuhiro Soeta
Chief Animator:Yuzo Hirata
Mecha Concept Design/Art Director:
Thomas Romain
Color Setting:Yuichi Kuboki
Music Audio:Highs, Kei Yoshikawa
Shoes Design:Cooperation NIKE