WORKS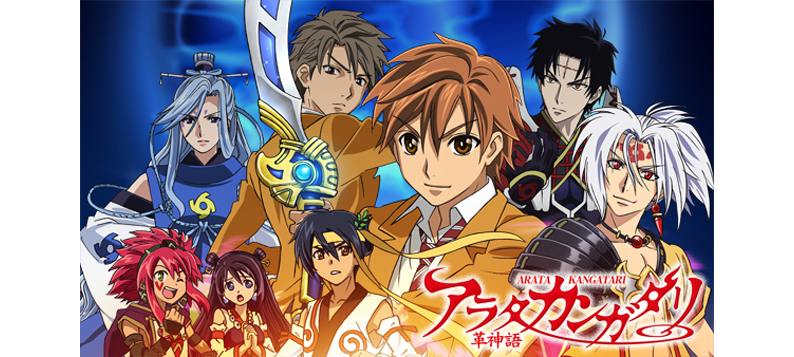 ARATA KANGATARI
STORY
Arata Hinohara is a school truant, escaping from bullying at his junior high school.
He had changed schools and started a new life when he realized his new friend had cheated on him. Arata was drawn in to despair and strayed into a parallel universe.

On the other side, Arata lives in the parallel universe called "Amawakun". He attended the changing of the queen "Himeou" ceremony, then became unwittingly involved in a coup de ta led by Twelve Shinsho Gods. Arata gets framed for the murder of Himeou.
Arata ran into the forest to evade his pursuers and was teleported in to the modern world. The two Aratas switched their worlds.

Arata Hinohara is confused by this sudden occurrence, but he then awakened the God of Hayagami- "Amawakuni". Arata becames a master called `Shō`.

Caught in the confusion of Twelve Shinshō's thoughts, Arata Hinohara carries the burden of destiny in the parallel universe and his fateful story begins.
(c) Yuu Watase / Shogakukan / ARATA KANGATARI Production Committee
INFORMATION
【Broadcast information】
TV TOKYO:
Monday 8th April from 26: 05
Aichi Television Broadcasting:
Tuesday 9th April from 26: 35
Television Osaka:
Friday 12th April from 26: 40
AT-X:
Tuesday 16th April from 23: 30
Re-air:
Every Thursday from 11: 30,
Every Sunday from 5: 30,
Every Monday from 17: 30
STAFF
Original story: Yuu Watase,
Serialized in Weekly Shōnen Sunday,
published by Shogakukan Inc.
Director: Kenji Yasuda
Chief director: Park WooHyun
Series organization: Mayori Sekijima
Character design:
Kagetsu Aizawa,Kim DoYeon
Chief animation supervisor: Yae Otsuka,
Noriko Ogura,Chieko Miyagawa
Color design: Masato Takagi
Art director: Lee SeoGu
DoP: Makoto Ueda,Lee SooYeon
Editor: Lim HyunHee
Sound director: Go Takahashi
Music: Ko Otani
Animation work:
Symphogear,JM ANIMATION
Production:
ARATA KANGATARI Production Committee