WORKS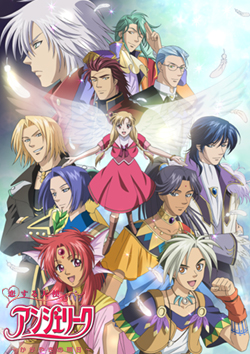 Angelique -tomorrow looks bright-
STORY
Although Sacria's sacred spirits vanish, the Queen of space, in which live sacred monsters, gets captured by the sacred spirits' curse. In order to save the Queen, Enju starts traveling to find the guardian saints.

"Legend Etoile" Enju, who was entrusted with a mission to save space, spends her days in a newly born space, occupied by sacred monsters. Being far away from the guardian saints who have supported her, it is a real departure for her as now she has to stand up and face the mission on her own.

In the crisis-ridden space, where the Queen, who commands space itself, suddenly disappears, Enju's new mission is to form the first generation of nine guardian saints. She visits every candidate's planet, trying to persuade them with her love and whole heart, and leads them to the Holy Land.

What is going to happen to Enju's mission and love in new encounters?
(C)KOEI Co.,Ltd. / Angelique Production Committee
INFORMATION
Aired from January to
March, 2007 12 episodes
STAFF
Original Story:KOEI
Supervising editor:Ruby Party
Director:Susumu Kudo
Series Composition:Mitsuru Shimada
Character Design:Kairi Yura
Animation Character Design:
Mari Tominaga
Art Director:Toshiyuki Sakakieda
Director of Photography:Maki Ueda
Color Styling:Nanae Shinanji
Editing:Megumi Uchida
Sound Director:Hiromi Kikuta
Music:Hikaru Nanase